Home
›
18" Bucket quick connect 027 3T Quick Hitch Heavy-Duty Bucket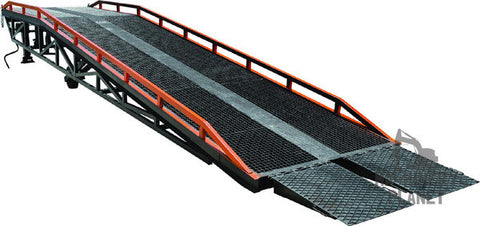 Yard Ramp
$ 14,800.00
Brand Machinery Planet
Yard ramps provide a solution for loading and unloading equipment and vehicles from trucks, docks, railcars, or trailers.
These ramps have a heavy duty steel construction with a 22,000 lb weight capacity and adjustable height. 
Grated approach ramps, folding attaching lips, solid rubber tires, included safety chains, and 8" side rails provide convenient and safe loading.
Features:
•                For loading and unloading semi trucks, trailers, railcars, or docks
•                Steel construction with steel serrated grating surface
•                Internally stored dual action pneumatic pump
•                Adjustable load height
•                9-3/4' level-off at top of ramp
•                18" solid rubber tires
•                Two steel, 12" L x 33" W folding attaching lips
•                Two 39" L x 32" W grated approach ramps
•                8" H safety side rails
•                Includes two safety chains
•                1 year warranty
You might also like